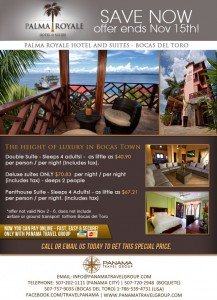 (Panama Travel Group) Panama Travel Group is proud to present the Palma Royale Hotel & Suites in Bocas del Toro. A beautiful and perfectly situated boutique hotel in the heart of Bocas Town. With sumptuous views of the archipelago and the azure waters you can relax in the bosom of this luxurious waterside establishment.
With a Double Suite sleeping 4 adults now from as little as $40.90 per person including tax you can let yourself go and bask in paradise. Deluxe Suites are only $70.83 per night for 2 and the finely crafted, tastefully decorated rooms will let you experience the true tropical lifestyle of these sleepy jeweled islands.
A magnificent Penthouse suite is also available – sleeping 4 adults in exquisite comfort from as little as $67.21 per person per night. Call or email Panama Travel Group today for this unique offer ending November 15th, a chance to experience the best Bocas has at an eminently affordable rate. We are here to take you there.
Offer is not valid between Nov 2-6th and does not include transport to from Bocas del Toro.