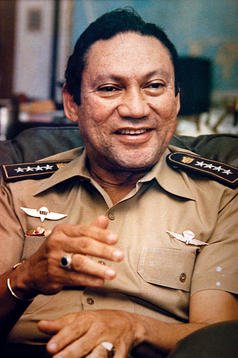 (Prensa.com) At 6:08 pm this Sunday, December 11, 2011, landed on Panamanian soil Iberia plane moved to the former dictator Manuel Antonio Noriega in Panama, who was extradited from France.
The aircraft, from Madrid (Spain), where Noriega had to scale, landed on the runway three Tocumen International Airport.
It's been 21 years and 11 months after Noriega (77 years) was overthrown in 1989.
Noriega, who will be moved from the airport to El Renacer Prison at Gamboa, has outstanding convictions for the murder of Hugo Spadafora, which occurred on September 13, 1985, for the murder of Major Moises Giroldi, and called "the slaughter Albrook "in 1989, where nine soldiers were shot.
He was also convicted of deprivation of liberty by Humberto Macea, involved in the attempted coup against Noriega in March 1988, also by official corruption and use of assets derived from crime, and fraudulent embezzlement to the detriment of Banco Patria.
In total, Noriega has outstanding court judgments totaling: 67.5 years in prison. Not to mention that three trials were performed, according to the records of the judiciary.
The Minister of Government, Roxana Mendez, reported that the former general will not receive any visitors upon their arrival at the prison.
LANDING
When the plane (Flight 6345) approached the Isthmian ground, the former dictator looked out the window before landing, as reported by a witness to observe Telemetro Report-Panama City. By that time you start seeing the lights on the Canal, banking center and towers and other houses that are in the capital.
Given the expectation of local and international media, covering a hundred correspondents in Panama City, Noriega's arrival, the aircraft carrying the former dictator from Spain arrived in the country with 37 minutes delay.
During this trip a special committee composed of his bodyguard, diplomatic and judicial officials, accompanied the former general who stepped off the plane and set foot in Panama, "will the care of the criminal justice system," according to the Foreign Ministry.
The Ministry of Interior reported that security measures were stepped up, "meeting all the parameters necessary for receiving and entering the meet internal where the sentences imposed by the Panamanian courts."