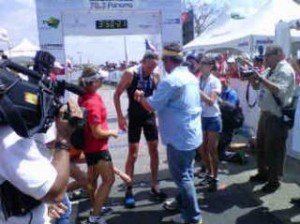 (Prensa.com) A heart final took place in the Ironman 70.3 Panama when the New Zealander Bevan Docherty made it to the finish with a time of 3:50:13, surpassing the last minutes of competition favorite, American Lance Armstrong.
Although Armstrong maintained the first place for most of the competition, eventually finished second with a time of 3:50:55.
In the third place was the Australian athlete Richie Cunningham with a time of 3:52:59.
For the tourism manager, Solomon Shamah, with such events Panama is building its brand internationally.
"The eyes of world sport are on Panama because Ironman is one of the toughest competitions, which is called the extreme competition," said Shamah to Prensa.com. He highlighted the fact that Lance Armstrong has participated in this event .