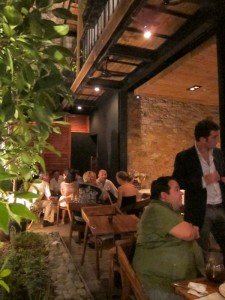 (Arco Properties) Last night, casqueños gathered at L`Osteria, the new restaurant at Casa del Horno.  Beautiful calicanto stone walls give you a cozy ambiance: perfect for homemade Italian cuisine by chef Barbara.
L'osteria: from the Latin "hospes" meaning "guest". A public place which served drinks; traditionally wine. Derived from the ancient Roman "caupona", in the Middle Ages the osteria was a place where the traveler could find food and lodging.
So there you go! Initially, they`ll welcome guests just for dinner, starting at 6 p.m.  Once the construction at B Avenue is finished, they`ll open for lunch.  Congratulations to Casa del Horno!