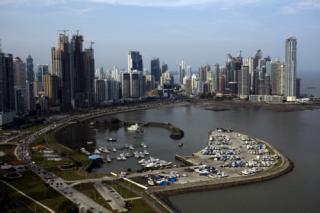 (PRweb) On May 16th, Panamanian President Ricardo Martinelli signed Executive Order 343 (http://www.gacetaoficial.gob.pa/pdfTemp/27038/37901.pdf) into law, creating an expedited path to residency for foreign nationals. Executive Order 343 Creates New "Immediate Permanent Resident" Status for Qualified Foreign Nationals
Former U.S. Congressman Robert Bauman – reporting on behalf of The Sovereign Investor – states that unlike Panama's pensionado program which requires substantial investments by foreigners to obtain Panamanian residency, the newly-created "Immediate Permanent Resident" status seeks to attract educated and trained workers to the nation.
Panama's current infrastructure boom has been spurred by the $6 billion modernization of the Panama Canal. With unemployment at 4.5% and an economic growth rate of 10.6% in 2011, the country requires an influx of qualified talent to keep pace with growth. In an interview with Bauman, Minister of the Presidency Demetrio Papadimitriu explains "Martinelli's open-door policy seeks both foreign direct investment and skilled international professionals. We are looking for workers in growth sectors such as logistics, tourism, banking and those making Panama a regional hub for multinational companies."
Immediate Permanent Resident status is open to citizens of 22 listed countries "that maintain friendly, professional, economic, and investment relationships with the Republic of Panama," including the United States and Canada. The new law grants immediate residence and a "cédula," the national identification card issued to all Panamanians, to qualified foreign individuals, their dependent spouses, children under 18, family members with disabilities, and dependent parents. Children aged between 18 to 25 can be included if they are students. After five years, participants will be eligible to apply for full citizenship.
Applications must be made to the National Immigration Service (NIS) and work permits are governed by Panamanian commercial and labor laws issued by the Ministry of Labor.
Bauman notes that Panama's actions come at a time when increasing U.S. restrictions on businesses and personal wealth are driving more Americans to seek overseas residency. John Gaver, president of Action America, states: "Panama is creating a huge magnet for foreigners with either skill or money to move to Panama and work or start a business at a time when the U.S. government is making it increasingly punitive for those same people to stay in the United States."
More information on these changes to Panama residency can be found in Bauman's article here http://sovereign-investor.com/2012/05/30/panama-opens-a-fast-track-to-residency/. For questions or for more information, contact Joel Haddock at The Sovereign Society at 410-454-0424.