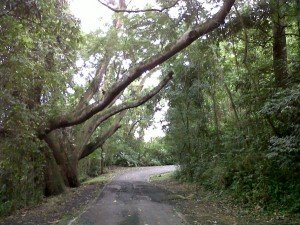 (Arco Properties) Staying at Las Clementinas Hotel in Casco Viejo and love to exercise?  Just let the concierge know that you are interested in hiking to Cerro Ancon!  Join the owners of the hotel for their morning exercise routine and get to learn about Panama`s history while hiking the rainforest of Ancon Hill.  If you like jogging, the "tour" takes about an hour. If you are more of a walking – not running type, then it will be around an hour and a half.
How does it work? starting at Clementinas at 6 a.m. , be sure to have your exercise gear on, or at least really comfortable shoes. We`ve seen people doing the walk with anything and everything from flip flops to great running shoes.  The road is paved, so you won´t be walking on mud.  Take water with you! depending on your personal speed, you might be back around 8 a.m.
The walk will take you from Casco Viejo to the former Canal Zone, where you`ll be able to appreciate the sudden change of architecture and will be transported into another world.  When you reach the hill, you`ll even see hidden (and forgotten) bunkers, built by the Americans during the Cold War and now almost swallowed by the forest.  When you walk up the hill think about this: the hill inside is empty. Under the forest lies an amazing, completely sealed, ultra secured communications room built by the army.
Reaching the top is the most satisfying thing in the world:  not only you have a sense of achievement, but you`ll be also rewarded by amazing views of Casco Viejo, the Canal and Panama City.
You might want to consider taking a small camera, as you`ll most likely see Tucans, agouties and more.  We once bumped into a deer!!!! I almost got a heart attack. I had only heard about it, never thought it was true: that deers from the Chagres parks would show up in Ancon Hill.  In Panama, you are never too far away from the wilderness!!!
Back at Las Clementinas, you`ll be ready for their delicious breakfast!