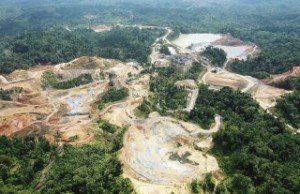 (prensa.com) In the neighboring country gave up a potential 20 million ounces, and other deposits, indicates that the people be heard.  Ricardo Martinelli's government strives to develop the mining industry and tries a second time to establish the rules of the game to give rise to this activity.
Next week will be the first meeting between deputies of the region and indigenous Ngäbe Bugle, who asked to cancel all mining concessions and hydropower in the region surrounded by Chiriqui, Bocas del Toro and Veraguas.
Members, most of the ruling Democratic Change has not submitted its proposal, while experts say that one should look examples like Costa Rica that the 8904 Act declared his country "free from open-pit metal mining" . Among the main aspects of the law "prohibits mining in areas declared national parks, biological reserves, forest reserves and state wildlife refuges."
In addition, states that "there shall be no permits or concessions for exploration and exploitation of open-pit metal mining in the national territory, except scientific exploration permits and research.
In addition, no permit or grant open-pit metal mining will be renewed or extended, extinguished after them for any reason.
The ban was made despite the Geologists Association of Costa Rica said that the economic salvation of this country could be in the Talamanca Mountains, rich in minerals, and the potential of Costa Rica can be worth 20 million ounces.
The site of Cerro Colorado in Panama is an extension of this range. According to investigations by several international organizations, conducted over the past 40 years, was detected about 22 copper and gold deposits in the area, according to The Nation on April 21, 2010.
The law shows that Costa Rica would make the most eco-tourism and conservation activities, and reflects the feelings of his people, that the grant Crucitas project on the border with Nicaragua was opposed by 98%, formed a strong debate marches, explained Maureen Ballesteros, former president of the Environmental Commission of the Assembly of Costa Rica.
"This is a decision of the country. What has to know a country is that there is a certain amount of minerals … and environmental impacts are irreversible and costly, "he added.
Mayte Gonzalez, representative of Panama and Costa Rica, The Nature Conservancy, said that both countries are recognized as having significant biodiversity, and mining destroy ecosystems.