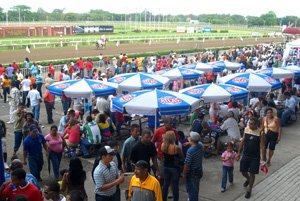 (Midiario) The Panamanian riding consolidate the 2011, established 89 years in Panama, and has had at racetracks Juan Franco and President Remon home.
Yesterday morning, President Ricardo Martinelli, in an act of appreciation, sympathy and admiration for Joseph Blatter (FIFA president), considered in his speech, he could not conceive the idea that sport and "chinguia" should be together, and that one had to go (Limbert Country) and that should go is "chinguia (racecourse).
In his speech, President Martinelli felt that the Racecourse grounds can be used to build new sports arenas, as well as buildings to house athletes for different events.
With regard to the race track, I think their building is old, it dates from the 50's, and we have to build a racetrack in another place with a more modern building.
NO liked
For the horse did not like that idea very much, because now the Hippodrome is centrally located. Those who agree are of the opinion to be modern structures in a central location to move when the new horse arena is built in its entirety.
The contract of the managing company of the racetrack to the state establishes that given a move, it is imperative that the present Government build the new race track and then perform the transfer.
SOME HISTORY
The land where today stands the Sports City Irving Saladino, the buildings of the Olympic Garden and the racetrack itself belonged to 100% at Presidente Remon racetrack. Then in the military era, General Omar Torrijos Herrera took the land to build the Sports City to international sporting events where Panama was committed as the headquarters.
The riding is considered a sport, as both individuals and riders must be in good condition to participate in equestrian events.
Panama is considered the "cradle of the best riders in the world" by the long list of riders who have catapulted the "sport of kings", headed precisely for the greater glory that Panama has in this sport, Laffit Pincay Jr. whom the Government has not taken into account to submit it to sports ambassador, he, the lender most equestrian figure of national and international.