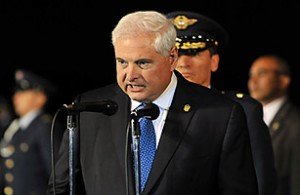 (Prensa.com) President of the Republic, Ricardo Martinelli, is set to travel on official mission this afternoon, Tuesday, April 26, accompanied by First Lady Marta Linares de Martinelli, to the city of Washington D.C., United States (U.S.).
The agenda for this mission includes several meetings and events between Wednesday, April 27 and Friday, April 29, including a bilateral meeting with U.S. President, Barack Obama, to address progress towards the ratification of the FTA pending between the two nations.  During this meeting, to be held on Thursday, April 28, the two presidents are also expected to discuss issues of strategy and security in Central America, as well as programs of cooperation that bind the two countries, such as their common goal of combating drug-trafficking.
Also on the agenda for this trip is Martinelli's participation in a special session of the Permanent Council of the Organization of American States (OAS), where he will also have the opportunity to meet with the deputy secretary general of this organization, Albert Ramdin.
Martinelli also plans to meet with John T. Morton, Director of Immigration and Customs Enforcement, regarding the official return of pre-Colombian art pieces; with Wayne Clough, Secretary of the Smithsonian, to mark the centennial of the Tropical Research Institute's presence in Panama; and with Peace Corps representatives.
Prior to returning to Panama, the president will also be honored at a gala ceremony by the American Jewish Committee, and tour the Holocaust Museum.
The official delegation accompanying Martinelli on this mission includes: Vice-President and Foreign Minister, Juan Carlos Varela; Minister of the Presidency, Demetrio Papadimitriu; Minister of Trade and Industry, Roberto Henríquez; Minister of Economy and Finance, Alberto Vallarino; Minister of Security, José Raúl Mulino; and Administrator of the Tourism Authority of Panama, Solomon Shamah.