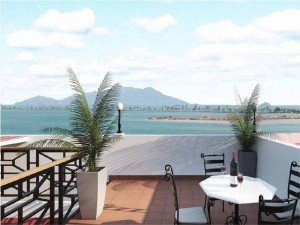 (Arco Properties) Most people that has been following up Casco Viejo know how difficult it is to find spacious units, specially over two bedrooms.   You basically have to build your own home from scratch using quite a large property to get beyond that. That is quite normal in historic districts, where there are very limited opportunities to develop larger homes, and this is what makes Mano de Tigre exceptional, among other things.
Spacious one bedrooms that are enjoyed all in one level,  affordable studio apartments , two bedrooms that can grow with you as your family grows and starts needing a third space, and three bedrooms with a maids quarter for those in need of larger spaces.
What we love about this project:
History and Location:
Near Plaza Herrera, it gets its name from the historic piece of the city wall displayed right in front. A unique and charming view!  It is easy to get to and leave from.  Also, the entire plaza is under construction. Some of Panama´s best hotels are going to be located here, which will bring appreciation to the entire Casco, but of course touching first the immediate surrounding areas.
Small parks and plaza parks are a few steps away.  The Boyacá gardens provide with great outdoors space where kids can run around and play and be safe from traffic.  Plaza Herrera is next door, and is one of Casco`s biggest and most beautiful plazas.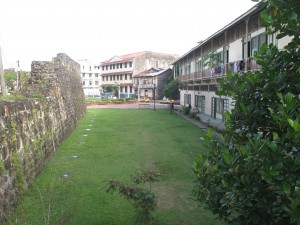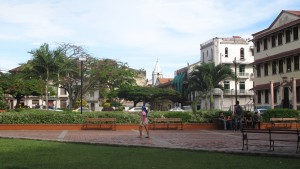 Right in front of Boyacá, two interesting NGO`s: the Danilo Pérez Foundation and Olga Sinclair Foundation. The first one teaches jazz to children and young talents in the neighborhood, many of which have ended earning scholarships to study and play abroad.  The second one is run by one of the best known Panamanian painters and  teaches painting to children in the neighborhood.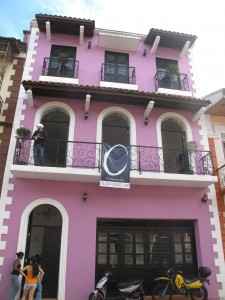 Amenities:
The building has an elevator and all the units with exception of the studio have balconies.  Units on the first two levels have patios that open to the guest bedroom, which makes for an interesting floor plan that provides with flexibility and privacy.
See Apartment 1 ,  Apartment 2 , Apartment 3 , Apartment 4 and Studio
Apartments No. 2 and No. 4 are specially interesting because they have two bedrooms and a den that could be easily convertible into a three bedroom.
Looking to avoid stairs? then the second level is for you.  All the floor plans here are at one level,  and all of the apartments here have spacious balconies.  There is one for each flavor: 1 bdr (Unit 5) , 2 bdr (Unit 7) , 3 bedr (Unit 6).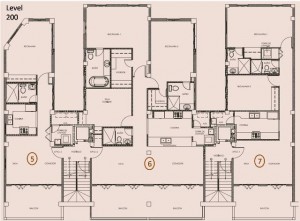 Look and feel:
Have you ever been to Las Clementinas? (if not, click on the link! or go try its brunch, is really good!).  The finishes will be the same as the ones used in their suites.  You`ll be able to experience how its beautifully done hardwood floor with reclaimed wood from Panama`s Canal brings all the Casco Viejo charm up.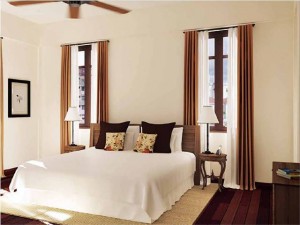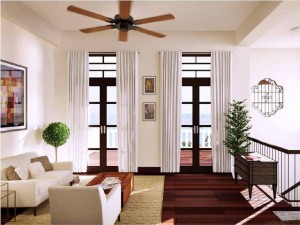 And the best:  the Penthouses!
These penthouse units will have it all: three bedrooms, office space , maids quarter and parking. Also a private terrace with water views and views to Amador.  The best place to enjoy Casco`s lifestyle.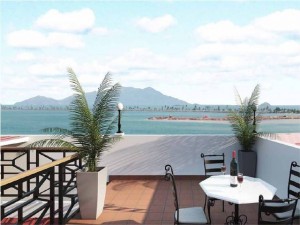 Arco Properties is the leading real estate agency in Casco Viejo, the historic city center of Panama City. We specialize in apartments for sale in casco Viejo, apartments for rent in Casco Viejo, unrestored buildings in casco Viejo and development property in Casco Viejo. If you need a real estate agent in Caso Viejo, Panama City, then please contact Arco Properties.