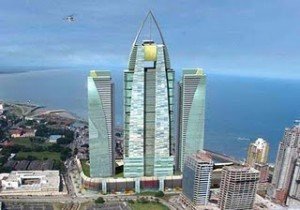 (Newsroom Panama) Leading realtors in Panama are calling for reforms to the real estate industry  following the $100 million failure of the Los Faros project.
Hundreds of investors, lured by promises of 170% returns have only a hole in the ground and  some early concrete pouring in Punta Pacifica to show. The developer, Grupo Mall, owes an estimated $100 million including deposits from investors.
Said real estate promoter Félix Carles: "The government should take steps to safeguard the interests of buyers of real estate in Panama" and suggested that deposits be placed in an escrow account to safeguard the prospective home buyers.
He said  that foreign promoters fueled the country's real estate boom, which now largely ended. And added that another problem was that some people within the industry did not have the appropriate qualifications. The boom period was a time when many realtors were offering big commissions for referrals, which led to increasing prices, It was also a time when observers commented that everyone in Panama seemed to be in the real estate business, from cab drivers to bar tenders, with attendant horror stories from those losing deposits on un-built towers.
Natasha Sucre, another promoter blamed international companies for distorting the market with projects that were wto ambitious, including several that became dreams in the sky along Avenida Balboa.
Iván Carlucci, a former president of the Panamanian Association of Real Estate Developers and Brokers, called for more regulation.
Others have called for penalty clauses for projects not completed on time and for the introduction of MLS (Multiple Listing).