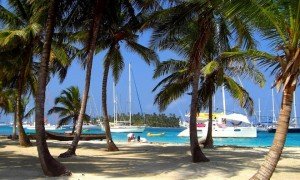 (Sailworld.com) If you would love to spend the rest of your life sailing in idyllic waters and are a citizen of Australia, the US, UK or Canada and a limited list of other countries, Panama could be your destination. Many cruising sailors have reached the San Blas, decided they are already in heaven, and stayed as long as they could. Now that decision has just become easier by a recent act of the Panamanian government.
Panama has always welcomed foreigners from all points and now they're making it even easier with its new 'Immediate Permanent Resident' visa. The visa has just recently passed into law and applies to residents of 22 countries that Panama deems to have maintained friendly diplomatic and economic ties with the country.
The new 'Immediate Permanent Resident' Visa aims to do exactly what it says, giving you immediate, permanent residency in Panama…and at a lower cost than you may have thought possible.
The National Immigration Service (SNM) reported, through a press release, that foreigners who apply within the immigration status of retirees (pensionados) will be eligible for the permanent resident card (cedula).
This measure will apply to those who are covered by the Law 9 of 1987, which grants exemptions for retirees and pensioners who are retired from active life and to retired annuitants.
This measure will be applied to those who comply with Executive Order 320 of 8 August 2008, which states that those who receive a retirement or pension from any foreign government, shall maintain a monthly income or pension that shall not be less a thousand dollars (per month) and must be granted for life.
The decree is still very new, and immigration experts are still not sure how certain parts of it will be implemented.
This new visa program might only add to Panama's attractions for long-term cruising sailors who have given up life on land, many of whom are already to be found in Panamanian waters.
by Sail-World Cruising round-up