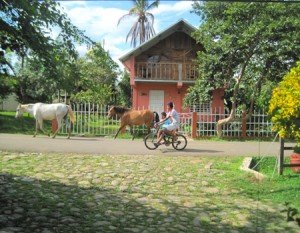 (International Living
) The weather is amazing. No jackets required. Wildlife is plentiful. Birds of every hue and song are everywhere. Some even nest in the trees along our terrace. Iguanas have taken up residence in our yard and love to sun themselves along the creek, climb our trees, and feed on our grass. We spend countless hours just watching these fascinating creatures.
We love living part of the year in the province of Chiriquí, in Panama's southwest corner. Chiriquí is so diverse. Cerro Punta is a mountainous area where most of the vegetables are grown for the entire country. Coffee plantations, orange groves, banana plantations, and cattle ranches are scattered throughout. There are several clean, breathtakingly-beautiful sandy beaches and resorts a short drive away, as well as jungle tours and nature walks.
We chose Panama as our half-time home because it has the greatest program in the world for retirees, the pensionado.
Travel to and from our home in Canada is easy, the climate is terrific, the scenery breathtaking, the government is stable, and the people are friendly and accommodating.
We purchased a home between Boquete and David, in an area close to the quaint little village of Dolega. Our home is a typical Panamanian-style (one story, concrete) house on almost an acre of land. We found it on the Internet while still in Canada. It was listed through an efficient and helpful real-estate agent originally from the U.S. Purchase price was $90,000, and this included a 2003 vehicle and some household furnishings.
Expats from all over the world have settled in Boquete, a half-hour away.
The town is famous for being the main supplier of flowers in Panama. David, which is the provincial capital of Chiriquí, is just under half an hour in the other direction.
Although not as large or as cosmopolitan as Panama City, it still has everything we need. There are modern, well-stocked grocery stores, home-supply stores, pharmacies, and even a Price Smart—similar to Sam's Club or Costco—all stocked with merchandise that sells for a fraction of what similar items cost in the U.S. and Canada.
There are several excellent hospitals, clinics, dental offices, and chiropractic offices, too.
We live in a Panamanian neighborhood rather than in an expat community, and we feel comfortable and secure here. Although we are not yet fluent in Spanish, we manage to make ourselves understood, and vice-versa. Our neighbors are kind, friendly, helpful, and accepting of us, and they keep a watchful eye on our home while we are away.
Our property is surrounded by lush trees and low foliage, and we have our own banana, coconut, orange, lemon, lime, and breadfruit trees.
We divide our time between Panama and Canada for financial reasons and also personal ones. We have children, grandchildren, and extended family whom we wish to see each year.
Eventually, though, we hope to spend just one or two months a year in Canada rather than six.