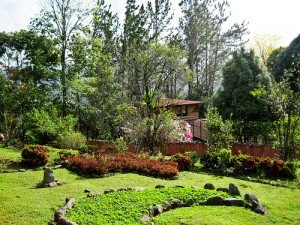 (International Living) We're sitting on the terrace of our cozy Casa Mariposa bungalow, drinking our morning coffee…grown, picked, and roasted just beyond the emerald hills below.
From our vantage point it feels like we can see forever, the morning light playing across the rocky-topped Mount El Tute in the distance.
Suddenly, I spot a rainbow-billed toucan flying overhead, its brilliantly-colored and unmistakably large hooked beak leading the way. Kevin Burns, the innkeeper at Casa Mariposa, operates an exotic bird sanctuary that's home to several rescued toucans, but this is the first time I've ever seen a toucan in the wild, and I'm thrilled.
Soon, two tiny, iridescent hummingbirds join us on the terrace, buzzing about the flowering hibiscus that tangles its way up the trellis. Butterflies float hither and yon, too, including the exotic Blue Morpho—one of the largest species of butterfly and rarely seen outside the tropical forests of Latin America.
It wasn't so long ago that foreigners were a rare species here as well. Tourism is a relatively new industry in Santa Fe, near the Continental Divide in Panama's Veraguas province.
And even now, those who find their way here are definitely not birds of a feather.
"The people who come first are interesting and eccentric," says Janet Hitchens. She should know—she was one of the first expats to settle in tiny Santa Fe.
While Janet and her husband, John, aren't all that offbeat, their path to Santa Fe wasn't typical of most expats in Panama. In 2005, they planned to spend the winter crisscrossing the country, poking in every nook and cranny, trying to find a place that felt like home.
With a lake house in northern Michigan, they were looking for a place where they could enjoy the outdoor pursuits they love…riding horses, camping, hiking, canoeing, tubing, and swimming in the rivers, splashing beneath the waterfalls…
"We found Santa Fe and it just felt right," Janet says. "Once we left, we couldn't stop thinking about it. So we came back and bought 15 acres of property. Since we're also reforesting about 50 acres of land, we qualified for a forestry visa. Then we started planning our dream house."
As Janet explains, at the time she and John bought their land, requirements for a forestry visa in Panama were different from what they are today. Then, you needed to prove you had invested at least $80,000 and commit to reforesting 50 acres of land. Today, with that same $80,000 investment, you can qualify by reforesting just 12.5 acres.
"We decided to get our property certified as a reforestation project by ANAM (Panama's environmental department), rather than buying into one of those reforestation projects using teak or pine," Janet says.
As for real estate, prices in Santa Fe don't approach the levels of property prices in Boquete. And while there are some developers who are testing the waters in Santa Fe, you won't find the large gated communities or condo projects that you will in Boquete.
In fact, you can still find a rental home in Santa Fe for just $300 a month. You can buy a well-built, three-bedroom, Panamanian-style house on an acre of land for $75,000. (It will need some work—maybe about $10,000 worth—but the big-sky views are free.)
I saw one property that I dreamed about for days…a brand-new, three-bedroom home on a large half-acre lot that slopes down to the rocky-bottomed river where it forms a perfect natural swimming hole. Price: a negotiable $175,000.
Most of those coming to Santa Fe tend to be adventuresome, outdoor-oriented, and self-reliant. They're looking for even larger parcels of land—properties of several acres or more where they can garden, farm, or re-forest, as Janet and John Hitchens are doing.
It's still affordable to find this type of property here. High in the mountains at an elevation of nearly 3,000 feet, and with several take-your-breath-away valley views, for example, an 86-acre property is selling for just $87,500—a little over $1,000 per acre.
In the November issue of International Living magazine, you can read my full article on Santa Fe, including more details on Panama's forestry visa, Santa Fe's property market and cost of living, and more.