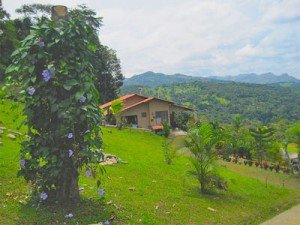 (International Living) "Buenas," he says, nodding his head as he rides past. Leathery tan on a face framed by a worn cowboy hat, he's the very picture of a Marlboro Man. Except he's Panamanian.
I'm sitting in an ancient Lada Niva—a Russian 4×4 made for rugged terrain. We've stopped so our cowboy (and his herd of cows) can pass safely. It's a chance to take in the view…
In the distance I can see the national park, where hiking trails crisscross hills lush with rainforest. In the treetops above me, I've seen monkeys and toucans and several species of birds I can't name. This is Santa Fe de Veraguas in Panama, a tiny mountain hideaway about 200 miles west of Panama City.
It's the kind of place where $5 will get you a sack of fruit and vegetables…and two chicken breasts for dinner. Where the town's one Internet café charges 60 cents an hour and your monthly water bill is rarely over $3.
Where most home rentals are less than $400 a month and crime is spoken of as an abstract idea seen on TV. A couple on a budget could get by on $800 a month in Santa Fe, easy.
Expat residents Erica and Kevin Moore agree. They retired here to live the good life for less. (Though they got so excited about the beautiful landscapes, they ended up opening a boutique inn called Casa Mariposa.)
"Even the cost of health care here is impressive…and the care is excellent," they say. Kevin had gone to various dentists in the U.S. for a problem he was told would cost up to $1,000 to fix.
When he moved to Santa Fe, he approached a Panamanian dentist who worked in the neighboring town. "There's a new technology we can use to fix this problem quickly," he said. "But you'll have to think about it, as it's expensive—as much as $180." Done. Kevin reports that the care was top notch.
Kevin and Erica are very clear about one thing: While the cost of living here is great, it's not the only reason they've chosen Santa Fe for their "quasi-retirement." They love it because it's a great place to live overall. From its rural, rugged mountain-scape…to the mild sunny days and cool evenings…to the welcoming locals and the small expat community, Santa Fe has it all.