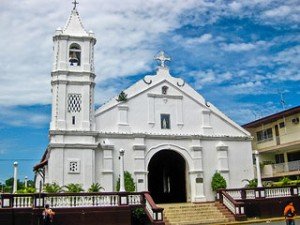 (International Living) Exuberant rainforest growth, sultry warm weather, and mountains kept draped in green by the abundant rainfall…this is Panama at its tropical best. But there's another side to this country—one that receives far fewer visitors than the Caribbean islands or the capital, with its glittering lights and happening nightlife.
The capital of the Los Santos province, Las Tablas is in the heart of Panama—the provincias centrales or "central provinces." And in an area known for its traditions and folklore, Las Tablas is as Panamanian as it gets.
A small colonial town with a big party reputation, Las Tablas is considered Carnival Central by fun-loving locals. Every year, during the five days preceding the Catholic Lent, this town of approximately 25,000 swells as thousands stream in from all over the country (and the world) to enjoy parades, parties, and entire days of dancing in the summer sun. It's perhaps a reverse shock when, after Carnival, Las Tablas reverts to a tranquil colonial town, the streets surprisingly empty after 9 p.m.
On an average day in Las Tablas, locals sit in the neat little plaza, watching the light hustle and bustle. Señoras on their way back from the market, their bags laden with fruit and vegetables…old-timers in hats and crisp white guayabera shirts…and kids coming home from school in their plain, starched uniforms.
The people of Las Tablas are known to be fun-loving and attractive. They take pride in their town, and keep their homes and the plaza looking tidy. Here you can still see signs of Spanish-colonial Panama—the best-known buildings sport red roof tiles and wrap-around balconies. The little Santa Librada church, known for its golden altar, anchors the town center and draws the tiniest trickle of tourists.
In the countryside around Las Tablas, you won't see any real mountains…just a few hills. The region is sparser and less humid than the rest of the country. Most of the terrain is flat…good for ranches and farms that grow everything from corn to watermelon.
And here's something many Carnival revelers never come to know: though Las Tablas is inland, it is only five miles or so from the nearest beach.
Mocha sands and cobalt waters are the norm along much of the eastern coast of the Azuero peninsula, where Los Santos is located. But just a 45-minute drive from Las Tablas, light sand beaches beckon to surfers from all over the world. To reach them simply drive through the fishing village of Pedasi (site of a growing expat community.)
Las Tablas is a secret that's been discovered by a handful of adventurous expats—people who wanted to live like and among locals, learn basic Spanish, and stretch their dollars far. A couple can easily live in Las Tablas on $1,500 a month or less. That's including rent.
I've seen plenty of local-style homes rent for less than $400 a month, with newer or larger construction going for $500. And starter homes built for young local couples go for as little as $50,000. Those homes tend to be Panamanian-style homes—from 700 to 1000 square feet—a little on the small side but clean and comfortable.
On this budget you could even eat out a couple of times a week. Most of the restaurants are nothing close to fancy, but with cold $1 lagers and some of Panama's best fish on the menus, they are well worth frequenting.
Las Tablas isn't for everyone, to be sure. If you need to live somewhere with top-notch entertainment and shopping, I would recommend Panama City. And if you can't speak a bit of Spanish…or have no interest in learning…you'd be hard-pressed to be happy in Las Tablas.
But if you're interested in the local culture and exploring the country, Las Tablas could be a perfect fit. If you fancy the challenge of throwing yourself headfirst into true Panamanian life, it would be difficult to be bored here.
Hundreds of regional events showcase the national dress known as the pollera, the little guitar or mejorana, and much more…flowers, oxcarts, yodeling, you name it. The fishing in and around Pedasi is world-class.
National parks and historic sites make for dozens of day-trip alternatives.
And best of all, it's difficult to spend a lot of money here. One could perhaps splurge at the larger supermarkets in the region, which carry lots of tempting imports, from cheeses and cold cuts to sauces and more. But restaurant lunches tend to cost $3 to $6, with dinner costing a few dollars more. Festivals are often free or just a couple bucks to enter. And fresh fruit, vegetables, and seafood cost maybe 40% less than in Oregon, where I grew up.