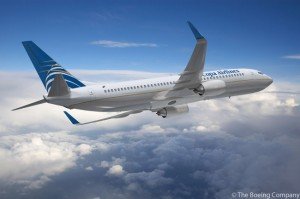 Jamaica's quest to bolster its airlift security in order to boost tourist arrivals took another major step forward on Sunday December 11, 2011 when Copa Airlines' inaugural non-stop flight from Panama's Tocumen International Airport, landed at the Sangster International Airport in Montego Bay.
The opening up of the Panama City – Montego Bay route by Copa Airlines, has now given Jamaica air connectivity to several South American countries, including Columbia, Venezuela, Peru and Argentina. Copa Airlines will be making two flights weekly between Panama's Tocumen International Airport and Jamaica's Sangster International Airport.
In welcoming the passengers and crew on the inaugural Copa Airlines flight, Tourism Minister, the Hon. Edmund Bartlett said "the arrival of this flight can be considered as a game changer for Jamaica as it took several months of negotiations between the Government and the airline to concretize the deal. This is the first time Jamaica will have direct commercial flights by Copa into Montego Bay and that has given a degree of certainty to travellers from South America who desire a direct flight between Panama City and Montego Bay."
Minister Bartlett outlined that "with the effects of the global economic crunch still lingering in the international marketplace, the decision by Copa Airlines to open this new Montego Bay – Panama City route is a compelling statement regarding the strength of destination Jamaica. I am very pleased that the flights will be available from 58 cities in North, Central and South America."
The Tourism Minister added that "Copa Airlines has now guaranteed Jamaica some 10,000 new airlines seats for the upcoming Winter Tourist Season and beyond, which will contribute tremendously to the projected 4.7 percent growth in arrivals for the December 15 to April 15 season. The arrival of an expected 769,000 visitors for the winter will earn Jamaica an estimated US$850M, making the upcoming season Jamaica's strongest ever winter."
Director of Tourism and Chairman of the Jamaica Tourist Board, Mr. John Lynch emphasized that "this new service will provide a much needed option for our potential visitors from South America. This is a new day for our relationship with Latin America as persons from that part of the world no longer need to come through the United States. This flight adds to Jamaica's accessibility and enhances our strategy to be accessible even beyond the gateway."
Meanwhile, Minister Bartlett reiterated that "the Government is taking decisive steps to ensure that travelling for visitors from South America is made easier and so far a policy decision has already been taken to allow visa free entry for Columbians who are staying in Jamaica for 30 days and for tourism purposes. He added that discussions are underway to offer visitors from Panama, Venezuela and Peru similar courtesies. The Minister said "Jamaica has recognised that certain issues in relation to border security must be addressed in the implementation of this policy and the Government is moving to address that matter using modern technology and cooperation between the Governments of these countries."
Copa's new flights will depart Panama's Tocumen International Airport at 9:06 a.m. on Tuesdays and Sundays, and arrive at Jamaica's Sangster International Airport at 11:03 a.m. The return flights are scheduled to depart the Sangster International Airport at 12:39 p.m., and arrive at the Tocumen International Airport at 2:30 p.m. on Tuesdays and Sundays. The airline's expansion into Montego Bay complements Copa's regular service from Panama into Jamaica's Norman Manley International Airport in Kingston.