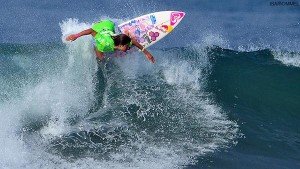 (Transworld Surf) On another day of fun, playful waves at Playa Venao, it was the tale of two destinies for the competitors of the Billabong ISA World Surfing Games. Victory for 18 surfers in the Main Event for each division at Podium 1, and goodbyes for 48 surfers eliminated in the Open Men Repechage at Podium 2.
With elimination rounds underway, the Team Standings have started to take shape. As of today, Australia and Brazil are in the lead with seven surfers still in the competition, followed by Peru in third, Argentina in fourth and France rounding out the top five.
The day began with the third round of the Women's Main Event. Sofía Mulanovich (PER), Paige Hareb (NZL), Jessi Miley-Dyer (AUS), Dimity Stoyle (AUS), Alizee Arnaud (FRA) and Cannelle Bulard (FRA) are the only six women who've made it through on the fast track to the final through the Main Event.
"It was an odd heat. It started slow, but eventually it got better," said Arnaud after her victory over Miley-Dyer (AUS, 2nd), Givanilta Ferreira (BRA, 3rd) and Nikita Robb (RSA, 4th). "I was lucky to find a good wave in the last three minutes—that eight-point ride put me into the first position. I love Panama. I've been to a lot of places around the world, and Panama is beautiful and the waves are great. Let's hope it stays like this until the Final."
Santiago Muñiz (ARG), Mick Campbell (AUS), Rafael Pereira (VEN), Ian Gouveia (BRA), Marco Giorgi (URU) and Thomas Wood (AUS) have proven to be the in-form surfers of the Open Men division thus far. All advanced to round 5 of the winners bracket.
Santiago Muñiz of Argentina demonstrated the growth of surfing across the globe with the round's best performance, scoring 15.86 (8.83+7.03) to beat Ian Gouveia (BRA, 2nd), Dylan Southworth (MEX, 3rd) and Klee Strachan (RSA, 4th). "It was a very difficult heat," said Muñiz. "I was competing against my friend Ian Gouveia, and Dylan Southworth, who is an amazing surfer. Argentina is doing great, but it is not only us. Peru, Mexico, Costa Rica and all of the Latinos are surfing really well. It is good to show the world that, with lots of training and dedication, we too can do well."
Meanwhile, in the Longboard division, Piccolo Clemente (PER), Matthew Moir (RSA), Antoine Delpero (FRA), Toni Silvagni (USA), Harley Ingleby (AUS) and Heifara Tahutini (TAH) had great performances. With at least two chances left, these six surfers of the division are now only two heats away from medaling.
Ingleby, a last minute addition to the Australian Team, said, "In the last couple of heats I just got lucky and was in the right spot for those good bombs. I'm in the top eight now, and as you get close to the end, you face some really good guys—some of them at the top of the world on the ASP Tour for decades. It's going to get really tough, really quick."
As for the Repechage rounds, some serious surfing action took place in both podiums. In fact, the highest combined heat score of the entire event was posted by Leandro Usuna (ARG) who scored 18.60 (9.43+9.17) in his Repechage Round 2 match against Martín Jerí (PER, 2nd), JC Susan (NZL, 3rd) and Swen Zaugg (SWI).
The Argentinean then continued his winning streak, placing first in both his third and fourth rounds. "I was upset when I was sent down to the Repechage in the first heat against my teammate Martín Passeri. I was really angry, and I wanted to surf more and show that I have the surfing to win some heats. I am happy with these three wins in the Repechage, I want to get back to the Main Podium, where it all started."
Other standouts in the Men's Repechage that were able to advance through their three match-ups today were Magnum Martínez (VEN), Martín Jerí, (PER), Jeremy Flores (FRA) and Francisco Bellorín (VEN).
Some of today's surprises included the elimination of Nathan Hedge (AUS), Chris Waring (USA), Justin Mujica (VEN), Diego Cadena (MEX) and Gavin Roberts (RSA),
The first countries to be eliminated from the event were Ireland, Canada, Jamaica, Colombia, Israel, Nicaragua, Japan, Guatemala, El Salvador and Panama. The event continues tomorrow with the following heats. All the action will be webcasted live with all heats surfing on Podium 1.
Last night, a large group of athletes and supporters attended the second edition of the ISA Aloha Beach Party. It was a great get together at the beach of Playa Venao featuring music and a huge bonfire. The international bonding experience that started last month in Peru during the ISA World Junior Surfing Championship, will be repeated at every ISA event in the future.
Watch the event LIVE WEBCAST beginning at 8:00 a.m. (local time), 6:00 a.m. (US PDT), 9:00 a.m. (US EDT) and 11:00 p.m. (Australian EST).