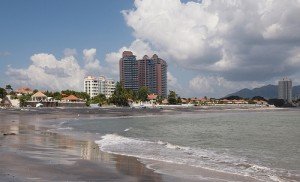 (International Living) A city girl through and through, I often make a great case for living in Panama City. I've been speaking at International Living seminars for five years and I always start out my overview of the country with a list of all the fun things there are to do right here in the capital.
But many potential expats still look longingly at the coast. "What about a home near the beach?" they ask. "Will I be bored out of my skull?"
There is one town that's growing into a bustling beach community. And truth be told, even this city girl would be willing to consider it as a permanent home. I'm talking about Coronado, the "crown" of the Pacific. Visitors spending a day in this tiny town have no idea. You need an extended stay (preferably a few months spanning different seasons) to comprehend what I am talking about.
Over time, several things become apparent. First, Coronado is only an hour from Panama City. It is the best beach you can get to in such a short period of time. A big plus if you, like me, enjoy city entertainment.
Want to catch that new English-language play at the Ancon Theater Guild? Spend the night at a hotel-casino for your "Vegas-style" birthday? Spend the day making a dent in your wallet at Jimmy Choo, Chanel, and Hermes outlets in MultiPlaza Mall? All perfectly doable.
The more time you spend in Coronado, the more clearly you see it: here you can have the ultimate city-beach blend. That's a cocktail I could really go for.
Second, Coronado is located in what's known as the Arco Seco, or dry arch. This region is known for its lack of rainfall. Whereas Panama's "wettest" areas (mostly on the Caribbean coast) can receive up to 129 inches of rain a year, the Arco Seco gets less than half that, typically a maximum of about 69 inches.
So why would so many expats choose the Pacific over the turquoise waters of the Caribbean? Rainfall has a lot to do with it. Even during the rainy season (typically April through December), rainy days in Coronado tend to consist of only an hour or two of rain. Most days, you see the sun. That's a powerful plus.
I could go on and on about Coronado, but let's round out the "top three" with another important factor: community. It is simply impossible to be friendless or bored in Coronado. (Unless you're a hermit…in which case Coronado is definitely not the place for you!)
The community here used to consist solely of wealthy Panamanians. But after the late 1990s, that began to change. Panama's middle class continued to grow as poverty levels fell dramatically (from nearly 40% to about 26% today). Property values increased and that drew foreign and local investment. Expats began to move to Coronado, and a trickle became a steady stream.
Today, Coronado is filled with a fun, interesting mix of Panamanians and expats…part-timers and weekenders and full-timers, too. The town is growing, with a new shopping plaza and hospital bumping up the "wow factor" in a big way. With growth has come an increasingly active community that calls itself Expats West. There are schools and classes and charity drives and mahjong and bridge and barbecues and a list that goes on and on. New restaurants and cafes provide increasingly better venues for these activities, though there are still many niches to fill (if you smell a business opportunity, follow your nose!)
Though property prices right in Coronado town have risen, this beach community still offers the best value Panama's Pacific Coast has to offer. And though it can be tough to find a home for under $200,000 right in Coronado, growing pueblos 10 to 20 minutes away offer bargain beach property in close proximity. So there truly is something for everyone here.