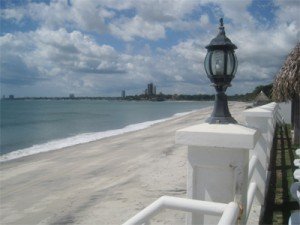 (International Living) If you're looking for a beach home near Panama City in Panama, expect real estate agents to steer you toward Coronado—where property on the beach costs $250,000 or more. Buyers in the know seek out homes or condos in towns like Gorgona (less than 15 minutes by car from Coronado).
Quiet Sundays on warm sands…cobalt blue waters and fiery sunsets…families and couples walking hand-in-hand… This is Gorgona Beach, my top pick for inexpensive beach living.
Gorgona is lesser-known but offers high value. There's a growing expat community here and even a new international school. Best of all, the real estate is much less expensive…as much as 50% less than in Coronado.
A plot of land about 6,000 square feet in size can be yours for just $25,000. Considering it's just five minutes from the beach and boasts municipal water and power lines, this property is a steal.
A simple Panamanian-style house 15 minutes from the beach is on offer for just $60,000. The two-bedroom, one-bath home sits on about 10,000 square feet of land, so there's plenty of room to expand, perhaps add a bathroom. The home is in a residential area with a "social area" or room for parties.
A completely furnished condo with an ocean view recently sold for $110,000. The one-bedroom studio of nearly 600 square feet came complete with major appliances, air conditioning units, even kitchenware. The building has a doorman and each unit comes with two parking spaces.
One of the best deals I've seen here is a three-bedroom, two-bath casita with covered terrace, on offer for $115,000. The home sits on a corner lot of about 1,900 square feet, in a residential community with pretty flagstone paths throughout. The community has a social area and pool, as well as secure entrance gates.
Keep in mind, properties advertised as "Panamanian-style" are different from the "U.S.-style" homes one finds in this area, especially in Coronado. The major difference is usually the kitchen. Panamanians are accustomed to hiring help to cook and clean. The kitchen is generally a small space with a door that closes it off from the living/dining area. The maid works inside and is never seen by company.
For a North American or European accustomed to entertaining, a Panamanian home generally needs some work. The good news is, work comes cheap around here. Invest as little as $10,000 to $20,000 and you can turn a dinky room into an entertaining kitchen, expand bedrooms, and add a bathroom.