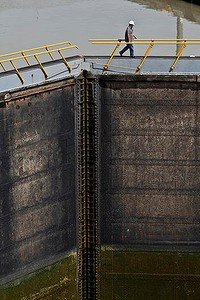 (Sydney Morning Herald) FOR now, the future of global shipping is little more than a hole in the ground here, just a short distance from the Pacific Ocean.
But what a hole. About 1.6 kilometres long, several dozen metres wide and more than 30 metres deep, the excavation is an initial step in the building of larger locks for the Panama Canal that should double the amount of goods that can pass through it each year.
The $US5.25 billion ($A5 billion) project, scheduled for completion in 2014, is the first expansion in the history of the century-old shortcut between the Atlantic and Pacific.
A ship makes its way through the locks.
Photo: NYT
By allowing much bigger container ships and other cargo vessels to reach the eastern United States easily , it will alter patterns of trade and put pressure on ports like Savannah, Georgia, and New Orleans to deepen harbours and expand cargo-handling facilities.
It is hardly the world's biggest infrastructure project, "but this is the one that has the most foreign impact", said Jorge Quijano, an executive vice-president of the Panama Canal Authority, which has operated the canal since the US handed it to Panama more than a decade ago.
With its two lanes of locks that can handle ships up to 295 metres long and 32 metres wide – a size known as Panamax – the canal operates at or near its capacity of about 35 ships a day. That can mean dozens of ships are moored off each coast, waiting a day or longer to enter the canal.
The new third set of locks will help eliminate some of the delays by adding perhaps 15 passages to the daily total. More importantly, the locks will be able to handle "new Panamax" ships – 25 per cent longer, 50 per cent wider and, with a deeper draft, able to carry two or three times the cargo.
No one can predict the full impact of the expansion, but it should mean faster and cheaper shipping of some goods between the US and Asia.
The biggest questions concern whether, in a country marked by official corruption, the canal authority, an autonomous agency of the Panamanian government, can handle such an undertaking.
Panama's Vice-President, Juan Carlos Varela, was reported to have privately called the project a "disaster" in 2009, according to a US diplomatic memo made public last year by WikiLeaks.
Mr Varela described the main contractors, Spanish and Italian companies, as "weak".