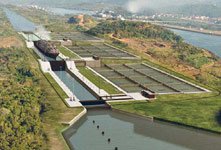 (
Prensa.com
) The first concrete was poured Friday in the new set of locks that will be the largest component of the
Panama
Canal expansion.
George Quijano, executive vice president of Engineering and Administration of Programs of the Canala Expansion, called the event Friday a "special day for
Panama
."
The concrete was poured in the locks on the Atlantic side of the Canal. The casting of the concrete was performed by staff from the consortium Grupo Unidos por el Canal (GUPC), the primary contractor for the work.
GUPC officials said that the lock will be built in blocks, each of which will be formed by concrete from about 15 trucks. The new set of locks on the Atlantic side will require approximately 2.5 million cubic meters of concrete, of which 500,000 will go to the upper chamber, where work began Friday.
Priest José Manuel Delgado, who blessed the works, said Panamanians should be proud of the project, which is not only important for the country, but the world as well.