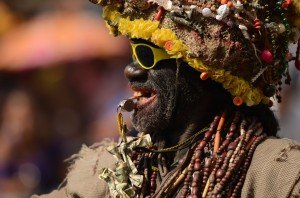 (Panama Travel Group) Caribbean Carnival in Panama is a wild riot of spectacular color amidst the highest temperatures of the year. With Bocas del Toroerupting into festivities in the true Caribbean party style, you can relax in a luxurious hotel on the Caribbean Coast before plunging into the fiesta!
The 'Mojadera' in Bocas is a legendary water fight, with ice water balloons, fire hoses and water pistols all used in jest as everyone in town gets soaked.
For places to stay in Bocas there is the Red Frog Rainforest Resort, combining the best of beaches and biodiversity. Beautifully personalized rooms and surroundings are mere steps from activities such as a Bocas canopy zip line and horseback riding, with the best of Bocas del Toro a 10 minute boat ride away.
For those who want to experience life in the thriving center of Bocas del Toro, Carnival is best celebrated from the contemporary class of the Palma Royal Hotel. Overlooking the beautiful waters of Bocas you can enjoy a glass of wine and cool ocean breezes, before heading out into the streets and the wild atmosphere of the carnival!
If you want to travel only a few miles from Panama City for your carnival experience El Otro Lado, snuggled in the Bay of Portobelo, makes a perfect escape. A paradise on earth where you will experience peaceful meditation and tailored therapy, it makes an interesting change from the wild parties around Panama. If you want to balance this rejuvenation with some partying, you are only short distances from Carnivals in Colon or Panama City. This magnificent location provides locally sourced food cooked to perfection, matched by finely tailored service and a wonderful Caribbean vibe.
For those looking to escape from the wild days and nights of the Panama carnival, a visit to untouched San Blas will be perfect. Home to the Kuna indigenous people, you can find great hotels San Blas in this unspoiled tropical paradise on the Caribbean. A heavenly assortment of small islands and palm trees, pure white sand beaches and incredible sunsets, within easy distance of Panama City. With a number of different accommodations available in the sheltered archipelago, a trip out here will make you consider the simple life.
Panama Travel Group creates itineraries for every traveler's needs, with a full range of services to help you organize your next trip to Panama. Contact us now.
Email: info@panamatravelgroup.com | Tel: +507-202-1111 (Panama) | 1-786-539-4731 (USA