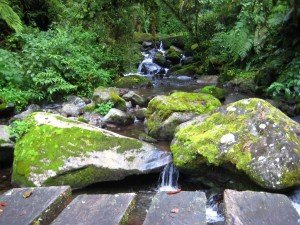 (Prensa.com) Ecotourism, an industry-exploited in Panama, joined the boutique hotel concept, creating a unique atmosphere, intimate, and with a little adventure. Typical of a boutique hotel, do not have many rooms, they are not given to the mass market, have a personalized service, and usually provide an atmosphere of privacy.
ADVENTURE ON A 'HOTEL' FLOATING
From the moment you take the boat at Gamboa public ramp adventure begins. Carl Davis, owner of Jungle Land Panama, greets visitors in a boat with accommodation facilities in the middle of Lake Gatun.
During the voyage, Davis speaks on historical data of the Panama Canal, with a very fluent Spanish (U.S. citizen) and a couple of jokes from time to time. Makes short stops to observe monkeys, which can feed them, but he warns tourists that it is best not to touch them because they are wild creatures.
After about thirty minutes away from the ramp, you get to a floating structure formed by a double-decker boat with the rest of the structure made of wood, very well built, with a greenish color that manages to blend into the landscape of the area the jungle.
You can see several animals, including some that are endangered. "I do not know if we qualify as a boutique hotel. We are more rustic and we are more inclined for adventure rather than a pampered experience. We are not registered as a hotel but as the boat, "says Davis.
"It has five rooms, and tourists can make tourism boats, see the wildlife, flora, fishing, kayaking," or simply swim in the area, which has a very pleasant temperature, explains the entrepreneur. The facility offers several service options, both nationals and foreigners. For citizens the picnic costs $ 65 for adults and $ 40 for children six to 12 years.
The stay of 24 hours costs $ 125 for adults and $ 75 for children. Prices do not include transportation to the public ramp which deals with the speedboat.
For foreigners the field trips offered $ 95, overnight stays at $ 125, for 24 hours at $ 175. Prices are per person and packages are "all inclusive" says the owner. "Not only includes meals and stay, but also activities at no extra cost." "Usually customers do not stay more than a week," he adds.
With electricity produced by a generator, but not much is needed, says Davis. This facility does not have "wi-fi" or wireless internet, so bring a laptop is not an option.
Davis began working with the ship for nine years. At that time only offered tours on Lake Gatun. With the passage of time made some expansions and has been anchored in various parts of the lake. For six years in the same place.
BIRD WATCHING
Located at 285 meters in Semaphore Hill, in the National Sovereignty Park, and only 30 minutes from the city of Panama, is the Canopy Tower, boutique hotel ideal for lovers of birds or animals, or for those who simply looking to be surrounded by nature.
Originally built in 1965 by the United States Air Force (EU) as a radar for the defense of the Panama Canal, but now it is an observation of rainforest and eco-tourism hotel.
This hotel has five floors and has 12 rooms. The top floor has a variation of geodesic sphere approximately nine feet high, which was used to protect the radar from the elements.
Its decor is simple, but cozy. And of course the view is "green" trees, birds, animals and nature everywhere.
The rooms have air conditioning. The reason? The temperature is always pleasant breeze. In addition, the noise of air conditioning systems do not allow to appreciate the sound of nature.
Account owner, Raul Arias de Para, "that when he was building the Canopy Tower had moments of doubt about the success that the company would have. When that time appeared to Mirador I went and felt the wind, listening to howler monkeys and birds seen, and my fears vanished. "
Of course, the view from the Mirador is unique and indescribably fascinating. Not every day you can see the treetops from the comfort of a hotel.
Their prices range from $ 105 for a single room in low season and $ 245 for a suite in high season. These prices are per person per night. The hotel requires a minimum of three nights. Includes lodging, taxes, meals (including wine at dinner), wireless internet and an introductory tour of birds.