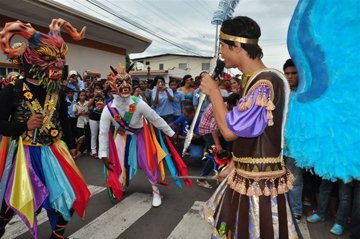 (Midiario) The villages of La Villa de Los Santos and Parita, in Herrera, filled with hundreds of citizens and tourists yesterday to appreciate one of the best pagan festivals that take place in the region of Azuero, Corpus Christi.
Solemn Mass of Corpus Christi in La Villa presided Monsignor Fernando Torres Durán.
At 10:15 am, with the sound of drum and flute devils came to apologize and it fell to Saint Michael the Archangel grant that wish in front of St. Athanasius Church.
Then, representatives of the church came to begin the Mass, followed by the devils, the Montezuma and the six dances.
Upon completion of the Eucharist was held the procession walked around the park, which was adorned with carpets of leaves and flowers.
HERRERA
The festival of Corpus Christi each year Parita take greater relevance.
Yesterday, the colonial church is considered a historical monument by Law 68 of June 11, 1941, was full of pilgrims and devotees.
It fell to Gilberto Villarreal priest officiating at the Mass and the procession around the streets of the temple dances accompanied pariteñas. After the Eucharist, the sound of the whistle, box and castanets of diablicos and the groaning of the earth could be heard from every corner of town.