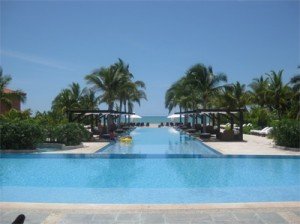 (International Living) Colors seem to get brighter as we leave the Panama City. The greens and blues look more real…or is it surreal? We're on the last stretch of the two-hour drive to Buenaventura resort, located in the district of Rio Hato. We've left the skyscrapers far behind us. Now it's all palm trees and forget-me-not blue skies, punctuated by puffs and swirls of white cloud.
Known as the Pearl of the Pacific, the district in Panama is home to miles of pristine beaches. Though a popular place to build resorts, this is also a good region to find beach homes and condos. Buenaventura offers condos and homes for sale, as well as an upscale hotel for Panama's well-heeled.
Driving to the hotel entrance, we are stopped by a smiling guard. Gated communities are all the rage among both Panamanians and expats (though there are many surrounding towns where one can buy a home "outside.")
Once past the gate, we are greeted by luxury everywhere we look. The landscaping is immaculate, and it seems every last leaf has been trimmed to perfection. On one mansion-like home, flowering vines drape the entryway. Next door, two gardeners are busy working, perhaps planting more flowers.
We take a golf cart to the club area and I walk around, taking photos. My amateur snaps look like magazine shots—chalk it up to the architectural pool and the pure white sands of the beach beyond.
If a perfectly pruned gated community is not your thing, look to other beaches in the area, from Chumico Redondo, Farallon and Playa Blanca to Santa Clara, Sea Cliff, and Playa La Boca. Expats are moving here from all over the world; find anything from large plots of land to sweet cottages for sale.
The region is ripe for bargain hunting if you have the patience to look. There truly is something for everyone. Pay $92,000 for a one-bedroom condo in a building with all the amenities (social area, pool, etc.); get a simple three-bedroom cottage for $150,000; or spend as much as $38 million for 222 acres on the beach.
It's likely prices will begin to rise here soon. Panama's President Ricardo Martinelli recently announced the site of Panama's new international airport will be Rio Hato. The government has long been studying the viability of a new international airport in the Pacific coast region. The idea is to make it easier for travelers to head straight to the beach. Now, most beach-goers fly into Tocumen International. Late arrivals often have to spend a night in Panama City before getting ground transportation up the Pacific coast.
Rio Hato was the logical choice due to its existing airport infrastructure. In 1942, the U.S. built an airport here; World War II was drawing to a close and the aim was to help protect the Panama Canal. The land reverted to Panamanian control in 1970; it was used for military training until 1989, when the U.S. invaded Panama and destroyed the Rio Hato facilities. As Panama has not had a military since, the land fell into disuse.
Now that the airport is about to be rebuilt, it's not hard to guess what will happen. The "airport effect" has been shown to increase real estate values and, of course, bring more tourism to the airport region. Potential buyers ready to check out Rio Hato soon may be able to get some great deals before prices begin to rise. If you're business-minded, you can do a lot with a large home or lot. Turn it into a Bed and Breakfast or a restaurant with a novel twist—and get ready to welcome all the new arrivals.
I'll tell you more about this area—one of my favorite in Panama—when you join me this April 13-16 at the brand new Riu Hotel in Panama City for International Living's Live and Invest in Panama Seminar. Find out more about this seminar here.