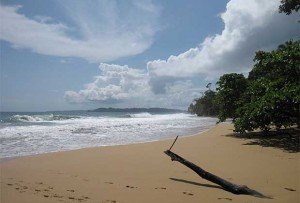 (International Living) Linda McKee fell for the rainforest in Rambala. She wrote to me: "We are enjoying our time on the farm. Our local farm manager is so happy when he produces a new veggie for us all to eat! We are learning more than we could have imagined and our Spanish is growing exponentially!"
For Jason and Lisa, it was the bustling beach area of Gorgona, which seemed like a good place to them to buy beach property. "I have a few places in Gorgona," Jason said to me earlier this year, adding: "WE LOVE PANAMA!" His enthusiasm requires all-caps.
For some it's the rainforest…for others it's the beach or the mountains or the city. You may come here and simply fall for the laid-back culture or the smiling people.
But these expats all have something in common—they didn't just listen to their hearts. They also took a good look at Panama from a practical point of view.
People always have some modern convenience…or some little must-have…that they cannot or do not want to live without. And whether we're talking necessary medication or ballroom dancing or Lean Cuisine, it's important to know what the deal is before planning a move.
And here's where Panama really shines. Sure, you can head to remote or rural areas and live like a local. In 2010, Linda and Eric didn't even have power in their remote area of mainland Bocas del Toro. But you don't have to live that way. In Panama City and developed towns such as David, Coronado, Boquete, Santiago, and more, the amenities are excellent.
The roads are constantly being expanded or maintained as needed. Panama City—known for prodigious traffic—is overhauling what was a deficient transit system. There are new traffic lights, new buses, and the city's first ever metro line is well under construction. It's slated to commence operations by the end of 2013. These changes have improved day-to-day life for me, my cleaning lady, and millions more.
I can treat myself to all the imports I love at local supermarkets. I try to buy mostly local products. But if I have a hankering for Granny Smith apples, quinoa, Nutella, Philadelphia cream cheese…you name it…I can get it. The last time I couldn't find what I wanted (organic maple syrup), I "tweeted" my request to gourmet supermarket chain Riba Smith. The next time I looked, voilà! It was on the shelves.
As for outings, you wouldn't believe how good I have it. I saw (and heard) Andre Bocelli—one of the world's great opera tenors—live in concert here. It cost me a pretty penny, about $175. But I usually spend $0 to $20 on my outings. Last week I went to a free event…a poetry reading, interspersed with live, original music from a strings trio. At the end, there was a toast. And yes, the wine was free, too.
In my Panama City apartment—in a neighborhood called Betania—I have excellent water pressure and quality. Power interruptions are very rare. I make do with an inexpensive Internet package. Local provider Cable Onda provides me with wireless 3MB download speed and one megabyte upload speed for about $25 a month. It's plenty for a desktop computer, laptop, and iPad to run at the same time. If you need double or triple the speed, you can get it.
It's true that local providers like Cable Onda can be slow to install or respond to complaints. As in many parts of Latin America, customer service in Panama isn't quite the art form it's become in places like San Francisco or Chicago. But I have learned that things work at a different pace here, and the important thing is that my problems are always resolved. If I'm unable to watch a movie on Pay-per-View, I get credited…just like when I lived in the States.