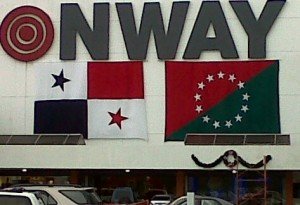 (Eye on Panama)People from the province Chiriquí (Chiricanos) have Panama's most distinct subcultures and prideful identities. The Chiricanos separatist spirit would make a Texan proud.  Their we-are-the-prettiest-people-of-this-damn-country is comparable to Las Paisas of Medellin, Colombia.  When you meet a Chiricano, you'll definitely know it.  They are quick to clarify that they are clearly from Chiriquí, not Panama, oiste!
Chiriquí is located on the western coast of Panama bordering Costa Rica.  It is bordered on the north and east by the provinces Bocas del Toro and Ngobe-Buglé, and the Pacific Ocean to the south.  Chiriquí has a population of 368,790, approximately 10% of the entire population of Panama.  Outside of the capital (PTY), it is Panama's most developed province.
The area was settled many years ago by people of European ancestry.  As a result, Chiriquí is one of Panama's lightest skinned provinces.  Chiricanos have a closer physical resemblance to their fair skinned Costa Rican neighbors than the highly ethnically diverse population of the distant Panama City.
Up to approximately 20 years ago, Chiriquí was virtually isolated.  The highway from PTY to Chiriquí was in terrible shape.  Limited access effectively cut off Chiriquí from the rest of Panama.
Isolation fostered sentiments of secession.  Chiriquí is a relatively wealthy province on its own. It has its own industry and has its own products.   The province has sweeping mountain ranges and pristine beaches.   Chiricanos consider themselves self self-sufficient and ethically different than the rest of Panama.
Yet, Chiriquí failed to secede.  In modern times, the separatist movement has lost momentum, in part because PTY and Chiriquí are much more connected today.   Physically, there is a modern highway that connects Chiriquí to PTY.  The drive is about 7 hours.  Culturally, many young Chiricanos have migrated to PTY in search of opportunity.    The once distant capital of Panama City is much more integrated with Chiriquí today.
Nonetheless, the rivalry between Chiriquí and the rest of Panama is still exists.   It is an intracountry feud that is seen all over the place.  It will not take you long to notice.   Here are a few observations:
– Baseball.  Chiriquí has a very successful baseball team.  You either love'em or hate them.  All Panameños root against them, even if their team is not playing.    They are kinda like the New York Yankees.
– "Ganado Bravo".  Literally this translates to angry cow.  It is nickname is given to Chiricanas for multiple reasons:   Chiriquí has many cattle.  And, apparently, Chiricanas have aggressive behavior because they don't take shit from their men and they have a high sex drive.  Chiricanas are on top of their men, both literally and figuratively.
Most Chiricanas resent this nickname.  Yet, in private, many people still make jokes about it…. even fellow Chiricanos.
– Flags.  Chiricanos proudly display their flag everywhere.  Bumper stickers, hats, during baseball games, and even on the front of department store buildings.
– Racism.  You might detect some racial sentiment.   As previously mentioned, many Chiricanos are light skinned because of the European background.  On the other hand, PTY has a high population of minorities.   Some Chiricanos will be quick to tell you they feel uncomfortable in ethnically diverse settings (i.e. bar hopping at night in Casco Viejo).
– Preppy Cholos vs Yeyes.  As a Panamanian friend once told me, "The young PTY people think Chiricanos are stuck up country preppies. Chiricanos think PTYers are just a bunch of yeyes.".
–  Respeta! Chiriquí is the only non-indigenous province in Panama where you must show your passport upon entrance.  It's like a miniature border crossing.   My amiga once jokingly told me that the reason was because you must, "Respeta a Chiriqui!
" (Respect Chiriquí).
– "Meto".  A slang word used exclusively by Chiricanos.  The term has multiple meanings and is used to express states of sadness, joy, anger, surprise, and almost anything else you want it to mean.  For example,  "metoooo estas loco!!!"  (Damn, are you crazy!) "METO y tu awebason" (Damn your stupidness).
This good-natured sibling rivalry is healthy and fun to observe.  Just be sure not to take sides.   Simply understand it.
Understanding the rivalry and the cultural differences between Chiriquí and the rest of Panama is important.  It provides further context to understanding Panama.  It also gives you a great local topic of conversation.  Both of which are needed in order to be a Successful Gringo in Panama.