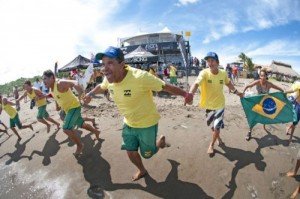 Playa Venao, Panama – Team Brazil has today claimed the ISA Aloha Cup ahead of Australia in glassy two-to-three feet (one metre) waves at Playa Venao in Panama. The tag-team style specialty event features five surfers per team who compete for one hour, with all surfers riding a minimum of two waves each.
Brazil's winning team included Diego Michereff, Ian Gouveia, Michael Rodrigues, RudáCarvalho and Silvana Lima. They achieved a combined score of 78.67 points, and the win serves as a confidence boost for them heading into tomorrow's final day where they trail Australia for the overall 2011 Billabong ISA World Surfing Games Teams Title.
Australia finished second in the Aloha Cup on a combined score of 68.34 points, with Team Peru in third on 66.32 points and South Africa fourth on 57.76 points.
The Silver Medal team of Australia included Thomas Woods, Drew Courtney, Jessi Miley-Dyer, Harley Ingelby and Mick Campbell.
Peru, Bronze Medal winners, consisted of top young talents Carlos Mario Zapata, Miguel Tudela, Juninho Urcia, Martín Jeri and former ISA World Champion, Sofía Mulanovich.
South Africa, the Copper Medalists, consisted of Klee Strachan, Matthew Bromley, Nikita Robb, Llewellyn Wittaker and Gavin Roberts.
Heading into the all-important final day tomorrow, Team Australia have five surfers remaining in the Open Men's, Open Women's and Longboard Divsions and are eyeing off another historical gold medal win.
However, Brazil is close behind, with France, Venezuela and defending champions, Peru capable of upsets.
Current standings with one day remaining:
1- Australia 17280 points
2- Brazil 15286 points
3- France 13640 points
4- Venezuela 12010 points
5- Peru 11750 points