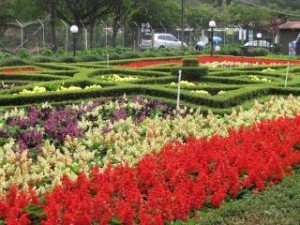 (Tico Times) The backyard at Refugio del Río, a Boquete hostel on prime riverfront property.
Call me spoiled, but sometimes living in Costa Rica, I get sick of the same beautiful beaches, the same incredible volcanoes and the same wildlife-ridden jungles. No one back home in the U.S. will summon even an ounce of sympathy for overfamiliarity with paradise, but seriously, monkeys just aren't that interesting anymore.
This Semana Santa, in an effort to cure myself, I hopped the border down to Boquete, Panama. Unfortunately for me, Boquete's cool climate, ridiculously beautiful mountain views and overabundance of flowers did little to help my problem. Instead, I just sort of longed to move to Panama. I'm not alone.
Nestled in a valley next to the country's highest point, Volcano Barú, the town of Boquete has become increasingly popular among backpackers, outdoor enthusiasts and retirees. With its spectacularl scenery and multitude of activities, Boquete also makes the perfect getaway for the permanent vacationer living in Costa Rica.
What to do and see
To put it simply, Boquete is adorable, and we easily spent an entire day just walking through the beautiful parks and gazing at the river. While the town of Boquete is in itself a destination, it also serves as the perfect base to explore the rest of Panama's Chiriquí Province.
For the avid outdoorsmen, the surrounding mountains provide a number of sites and hiking trails. The 5- to 7-hour Quetzal trail is one of the most traveled in the country and is known, as its name suggests, for the quantity of rare Quetzals that nest in its trees. For a more strenuous experience, there is also a trail to the top of Volcan Barú, but the 8- to 14-hour hike is only for the physically fit.
The region also has some of the best river rapids in the country. With everything from baby Class II rapids to terrifying, un-raftable Class Vs, the region's most rafted river, the Chiriquí Viejo, a 2-hour drive from Boquete, has a little something for everyone.  Boquete Outdoor Adventures offers a wide variety of rafting and kayaking trips.
This monkey will steal your lunch.
Lindsay Fendt
Another more relaxing option is the Caldera Hot Springs, a short drive or a $30 cab ride from town. These natural hot springs, heated geothermically by Volcano Barú, are both a little bit weird and a little bit amazing. The springs are smack in the middle of a farm replete with animals; chickens and goats litter the front lawn, and keep an eye out for a water buffalo and a mischievous monkey that might just steal your lunch.
Where to eat and drink
Finding a real sandwich in Costa Rica is about as likely as spotting a jaguar walking down a jungle trail, so the thick-cut deli meats and perfectly baked breads at Sugar and Spice were a welcome surprise to my Tico-ized taste buds. The cute café also has a variety of desserts, fruit shakes and coffees on its menu.
For dinner, we checked out the popular Argentinean steakhouse La Posada, which serves up some great steak and trout. Bar Barú was another good choice for its classy Italian food. As a small town, nightlife is limited in Boquete, but certainly not lacking. Our top pick is Zanzibar, a relaxed, African-themed bar that often features live music.
Where to stay
As a backpacker town on the rise, Boquete is full of cheap hostel options as well as high-class cabinas. For the best of both worlds, check out Refugio del Rio, a cute lodge where for $33 a night, you can get a private room with a terrace overlooking the river. Dorm beds are also available for $11.
For a more high-class option, there is the Los Establos boutique hotel.  What it lacks in amenities (no pool, spa or restaurant), it makes up for in amazing views, free wine and soup and general cuteness.
Going there:
Boquete is located in Panama's Chirquí province and is easily accessible through the transit town of David. From Costa Rica you can fly or drive to David, or catch the 7:30 a.m. Tracopa bus. Once in David, busses leave approximately every 45 minutes for Boquete and take about an hour.