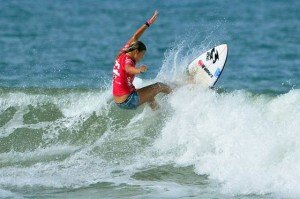 (Boxscorenews) Team Australia has won the overall Teams Title at the 2011 Billabong ISA World Surfing Games, finishing ahead of 26 other nations at the annual week-long event which concluded today in excellent one-to-1.5 metre waves at Playa Venao in Panama.
The title is Australia's fifth team gold from 10 outings and cements further the green n' gold's history of dominance at ISA level. Australia's last win was in Portugal in 2008.
Five Australian surfers made finals today and were rewarded individual medals, including Open Men's competitors Mick Campbell and Thomas Woods (AUS), Women's representatives Jessi Miley-Dyer and Dimity Stoyle (AUS), and Longboarder Harley Ingelby (AUS).
Along with team members Drew Courtney, Nathan Hedge and Dane Pioli (AUS) who were eliminated late in the repechage rounds, Australia's combined individual placings put them into an unbeatable position, with Brazil finishing second, France finishing third and Argentina finishing fourth.
Individual gold medals in the three divisions were awarded to Argentinean Santiago Muniz (ARG), Frenchwoman Canelle Bulard (FRA) and American Longboarder Tony Silvagni (USA).
Underdog, Muniz (ARG) created history for Argentina by capturing the country's first-ever ISA gold against a host of highly fancied international rivals.
Less than a point separated the top three on the final buzzer with Muniz finishing on 17.00 points to Campbell, 2nd (16.77 points), with Woods third (16.23 points) and Brazilian Ian Gouveia (BRA) fourth.
Former 2004 ISA World Surfng Games gold medalist, Sofia Mulanovich (PER) of Peru, entered the water the favourite in the women's final versus Stoyle Miley-Dyer and Bulard and the Peruvian held the lead until the last five minutes.
Bulard rallied in the dying stages, however, and posed two big scores to put all three of her opponents on the ropes in a combination situation, each surfer requiring two waves to catch the French runaway.
Bulard's final two-wave combined heat total was 16.43 out of a possible 20, and the Open Title makes it an international double for her after she sweeped the field in the ISA junior division in Peru late last year.
The USA claimed its first ISA World Surfing Games gold longboard medal in 15 years with an outstanding performance from North Carolina's Tony Silvagni (USA). Silvagni did not drop a heat the entire event, winning every time he pulled on the coloured jersey.
In the 30-minute decider, Silvagni was up to his feet early, locking in two excellent scores from the judges, including an 8.17 (out of a possible perfect-10) and an 8.73 ride. With five minutes remaining, Australian favourite, Harley Ingleby (AUS) challenged, posting an 8.37 point ride, but it proved too little too late to steal Silvagni's lead.
2010 defending ISA World Surfing Games champions, Peru, placed fifth overall.
Panama's President, Ricardo Martinelli, and Tourism Minister, Salomón Shamah, were guests of honour at the closing ceremony and medal presentation.
Martinelli thanked everybody and invited the world to Panama, to surf and enjoy its excellent waves.
Top 10 team placings (from 27 starting nations)
1) AUSTRALIA 15000
2) BRAZIL 12132
3) FRANCE 11816
4) ARGENTINA 11312
5) PERU10930
6) VENEZUELA 10342
7) SOUTH AFRICA 10008
8) USA 9676
9) NEW ZEALAND 7816
10) ECUADOR
The ISA (International Surfing Association) is recognized by the International Olympic Committee as the world governing authority of surfing.
For additional information including the Billabong ISA World Surfing Games schedule, heat draws, results and competitor info, please log on to www.billabongpro.com/isa11