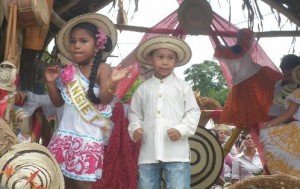 (Panama America) More than a thousand hats and 30 carts were the main attraction of the National Festival Parade Painted Hat, which was held today at The Painted. For the first time, the streets were filled with The Painted folklore, tamborito and hats, mostly painted, young children and adults who wore with pride.
The Painted Hat Festival seeks to recognize the work of the farmer who lives in these crafts in The Painted and surrounding towns.
Guillermo Ferrufino, Social Development Minister, was the bearer.