Name: Robert Cook
Age: 54
Nationality: U.S.
Living in: Boquete, Chiriqui Highlands, Panama
When Robert Cook sold his house and car, quit his job and took off for Panama, his friends and family asked him if he was on drugs.
That was six years ago and things have changed since then. "They say they envy me now," Robert laughs. "My stress level is way down and I'm much healthier." Robert attributes this to his new home. He lives in Boquete where there isn't a fast food joint on every corner, where the vegetables and produce are grown locally, and where walking is the preferred mode of transportation. Not only that, but he also found love…
Robert met his wife Maria, a Panamanian, on a blind date, and the rest, as they say, is history. The pair discovered they had much in common—especially a love for Latin dance, which Robert adores.
Back in Kansas City, Robert had seen many people get laid-off with little more than a "thank you" after years of loyalty. "One day we got to talking at work and joked about retiring early," says Robert who worked as a sleep study technician. "But I got home that night and kept thinking about it…it wasn't just a joke to me."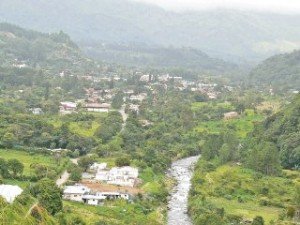 (International Living) Growing up, Robert had traveled all over the world thanks to his father's military job. He fell in love with Puerto Rico and then Spain, so he knew the Latin lifestyle was for him. He began researching retirement overseas, and International Living kept popping up. The more he read, the more Panama seemed like the place for him.
He now runs the Rock and the Riverside Inn in Boquete. There are six plush rooms that offer every luxury, from the oversized bathtubs to the large picture windows. Guests get a room key and a front door key. They are encouraged to enjoy the common areas…a small den-cum-library where you can borrow a book, a sitting room with a cozy fireplace, and a sun room with an "honor bar"—where guests write down what they take from the fridge or the liquor cabinet, and are charged accordingly when they check out.
With a wonderfully relaxed lifestyle and an ultra-low cost of living (his three-bedroom apartment costs him $450 a month in rent) for Robert, returning to the U.S. is not an option. "This is home now," he says, "and I've never regretted the move…in fact, I would love for my sisters to move here, too."