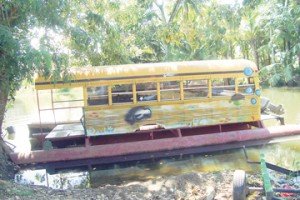 (Midiario.com) In Panama City buses are being phased known as "red devils", but Cinhanguinola one of these vehicles has been revamped to be converted into a "bus boat" as he calls Claudio Arauz, who has had this idea before eliminate waste and make it to the community.
Arauz says he took the bus and outfitted for tourists to have the opportunity to have such direct contact with nature from the vehicle in its path by the river and wetland San San San San Ponsak. The latter is considered one of the most important sites for nesting and protection of about six species of turtles that are recorded in Central America, all in danger of extinction.
CAPACITY
The bus boat has a capacity for 20 people and is equipped with life jackets, and a boat to any emergency and all the equipment needed to make the journey down the river, which takes about three hours round trip to get back to the beach.
Arauz is the owner of a company called AAMVECONA and has his office in conjunction with the National Environmental Authority, where they develop conservation actions and monitoring of sea turtles.
He said the idea has been welcomed by the community, though it lacks some resources to carry out some details, and staff to attend.