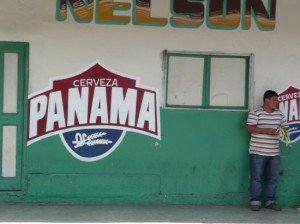 (Panama Digest) The history of beer in Panama began on Octobre 4, 1909 with the founding of the Panama Brewing and Refrigeration Company in Panama City and its launch of Balboa beer in September of the following year.
The beer industry grew quickly, and it was not long before others entered the market including La Tropical Brewery with its dark La Tropical beer (1914); the Atlantic Brewing and Refrigeration Company with Panama's number one selling Atlas beer (1928); and the German Pacific Brewery which produced the Bolivar (1929) and Milwaukee beers.
By 1939, on the eve of WWII, the market had become saturated with beer, so three of the companies merged to create the Cerveceria Nacional which continued to produce Atlas, Milwaukee Brew, HB and Balboa. In 1959, Balboa went international with the first 1,000 crates exported to New York.
That same year, Panama's other big brewery was born, opening a 24-person operation in David, Chiriqui and introducing Cristal, Panama, Soberana, Super Malta and Malta de Baru beers.  By 1971, it had opened the Cerveceria Panama in Panama City. In 2002, Heineken N.V. of Holland and Florida Ice & Farm of Costa Rica acquired majority shares in the company.
A year early, the Cerveceria Nacional was also bought out by Grupo Empresarial Bavaria of Colombia and continued producing the Balboa, Atlas, Balboa Ice, Gold Best and Malta Vigor brands.  Just four years later, the SABMiller group, one of the world's largest brewers, aquired Grupo Empresarial Bavaria. And in October 2010, the Cerveceria Nacional became the first to produce Miller Light outside of the United States.
Between 2006 and 2010, beer production in Panama increased by 53 million liters annually. In 2010, the industry produced 235 million liters of beer, 2.3% higher than 2009.
__________________________________________________
Cerveceria Nacional beers: Atlas, Balboa, Miller Light, Miller, Corona
Cerveceria Baru Panama beers: Panama, Soberana, Heineken, Budweiser, Warsteiner, Cristal, Guinness, Paulaner, Tecate, Super Malta
Other beers to make appearances on the Panama market over the years: Pilsener Especial, Silver Spray, Zest Malt beers, Guaymy, Barrilito Tap, Champeil and Maxi Malt and 1,200 limited edition Istmeña pilsen and bock beers.
See also: Too Much Drinking in Stadiums and Maybe Overall
Cerveceria Panama – "For me, if there is no Panama, there is no beer"