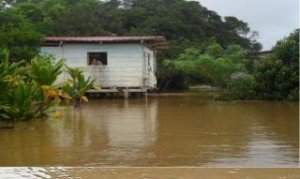 (Prensa.com) The Director General of Civil Protection National System (Sinaproc), Arturo Alvarado, said on Sunday, December 18, maintaining a green alert throughout the country due to heavy rains that have fallen over the past days.
According to Alvarado, the green alert was ordered since last week by the entity in charge – because the system will remain "atypical" of rain that the country faces, because the phenomenon of La Niña.
"The north winds of summer themselves are not strong yet, but until these layers will be recorded rainfall nationwide," said the official Prensa.com.
On the other hand, Alvarado explained that you can not determine on what date the rains cease in the isthmus. "The rain system that we are facing is not typical of the season, so the forecasts are disclosed to the public will be short term," he said.
The rains that have occurred since last Friday, December 16, left as a result of damage to several communities in the provinces of Bocas del Toro, Colon and Darien.
On its website, the said Sinaproc maintain a constant 24-hour monitoring this situation. While the emergency response personnel will be available in areas vulnerable to floodin