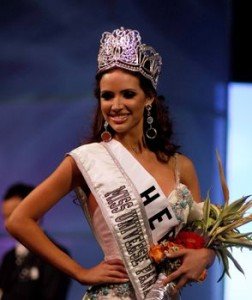 (Midiario.com) After a  three hour show, the three young finalists were Keity Mendieta (Panama Central), Irene Núñez (Veraguas) and Sheldry Sáez (Herrera). Miss Herrera Sheldry Sáezwas crowned Miss Panama 2011 and will represent us in Miss Universe to be held in Brazil.
Núñez, the second finalist, will represent Panama in the Miss World 2011 in London. And Keity Mendieta is the viceroy, who in the absence of one of the misses in international competitions for any reason she will replace them.
Both queens were excited by the award of the national beauty. The Herrerana said: "I give thanks to God and the Virgin of Guadalupe so I have given and let the country know that high in this tournament."
We learned that there is  a caravan for her reception in the city that formed by itself.
Meanwhile, the representative of Veraguas said: "I'm excited and thank God for this new challenge in my life that I will achieve humility leave the name of Panama on high at Miss World."
Delay in the 'show'
After an hour delay, the "show" began with a video of the 12 participants showed up, the backdrop of the Casco Viejo. Then each of the misses were out, modeling a yellow dress that made them look all regal.
Subsequently, the 12 girls left in swimwear, wearing their slender bodies worked for more than three months of preparation they had.
In the event there was a special recognition to the first Miss Panama 1952, Elzevir Malek, who very excited and after 59 years of unexpectedly received a replica of the crown. All because, at its choice as Miss Panama, said his dream was to get a crown in view of that year she gave one that was borrowed from the Queen of Carnival. This was a very emotional moment for her and the tiara she wore on stage, recalling as a whole miss his moment of glory.
Awards
The special awards were not expected in this gala and shared titles such as Miss Photogenic, which was to Sheldry Sáez, Miss Friendship went to Jelenska Garcia, Miss Silhouette Irene Núñez took him, and best costume design went night Marielena's dress Gonzalez, which was created by Juan David Vélez.
The guest of the night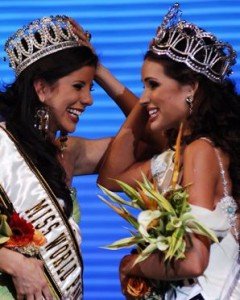 At 10:35 pm, the gala was the guest artist presentation and jury, Amelia Vega, who in Studio Dance Company sang "Give me a jiffy." With her voice captivated the audience, plus the exmiss demonstrated her skills in dance.
Another who also showed his talent was the baritone Panamanian Ricardo Velasquez.