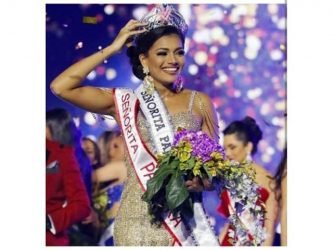 (Business World) Mehr Eliezer, representative of Isla Flamenco, was chosen as the new Miss Panama 2019. 
Eliezer, 22, student of International Relations, beat all the 24 contestants in the National Beauty Contest 2019.
Mehr Eliezer, born January 16th 1997 in New Delhi, India. She moved with her parents to Davao City, Philippines in 2001 when she was 4 years old.
In 2003, at the age of 6, she moved again to Panama City, Panama and has lived there ever since.
She studied at Balboa Academy. She graduated in 2015 earning simultaneously an American High School Diploma and a Panamanian High School Degree in Science and Humanities.
After graduating High School she enrolled at Florida State University, Panama City, Panama, campus for a B. Sc in International Affairs and Economics which she completed in May 2019.
She is currently doing an internship with UN OPS in Panama.
She is fluent in English and Spanish – she also speaks Hindi, Tagalog and Portugese.
Mehr is an avid sportsperson. She had been a competitive swimmer in her school days having competed in and won various local competition.
In college she switched to Cayuco – a very Panamanian sport of team rowing. Later taking up boxing as a fitness and wellbeing program to help build in her strength and endurance both physically and mentally.
She has always been a social activitist having volunteered at the Children's Hospital and initiating a program in her school to enroll other volunteers.
She has a Feed the Homeless program where she, with the help of her Mother, cooks and delivers food to homeless people whenever she can.
In Dec 2017 she had a fall and damaged her left knee. She had to undergo a major surgery to repair both her menicus and reconstruct her LCA. This rendered her disabled for over a year.
When she enrolled for competing in the pageant she was still very unstable on her feet. She also not physically fit having been unable to go to her boxing gym since the surgery.
The journey ever since, to the crown, has been extremely gruelling and tough – painful even. Not only did she have to get fit but also learn to walk the ramp that to on high heels – when she was told that she would never be able to walk straight nor use high heels. It was only her sheer confidence, will power and determination that enabled her not only to train but also win the crown.